ES Dev Alliance
Technology Partnership for your growing business
You are good at Design, Digital Marketing and New Business Ideas; we are good at coding and tech – let's build amazing websites together and inspire each other's growth.
We work exclusively with Design Agencies as their Development Partners. In addition to coding, we'll stand by your side all the way, from the start of the development process to a successful project launch and further maintenance.
Are you open to a real digital partnership?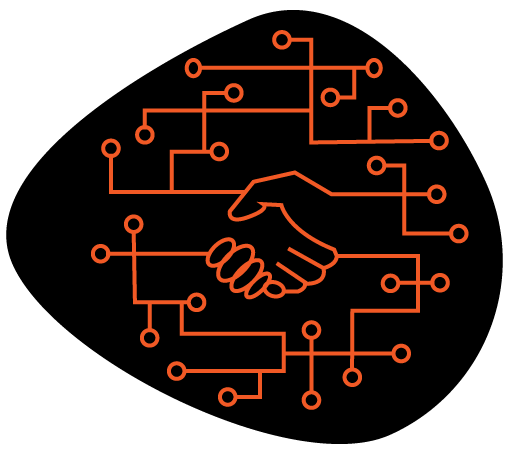 Working with us ensures that there is

"More Margin and Less Risk"

for you.
Website development with:

No Project Management
43 % of all IT projects fail when agencies use freelancers. One of the major reasons for that is that the freelancers don't have a proper process or project management system.

Project Completion
ES has a defined process and step-by-step method for delivering projects on time and budget, this enabled us to achieve a 100% project completion rating.


No Defined Work Process
Even with a stellar rating, project completion on time and within a budget can not be guaranteed by the Freelancer.

Proven Work Process
Eden Spell's unique 7 step process ensures that your designs and concepts are converted into fully functional websites and applications.
The process can be viewed at:
https://edenspell.com/how-we-work/

Resist Change
Freelancers are happy with a set of tasks required to be completed and don't bother with the overall goal of the project, hence they will always resist any change to the project scope and addition of new features.


Agile to the Core
At Eden Spell, we pride ourselves on having an Agile work culture, we always adapt to change, our unique Development Method ensures that we don't resist the change but anticipate and encourage it. No matter what project stage we are at, we can always implement the required changes from your client.

Uncertain Availability
A freelancer may get sick, get hired on a larger project, have personal issues and maybe just give up on your project when it changes or evolves. Also, the quality of work will suffer when the freelancer receives more work from you or other agencies.


Confirm Availability
Eden Spell has a large in-house team of developers, this ensures that even if one developer is unavailable, your work will not suffer, we always have a backup developer on all projects. A large team also allows us to take in more projects without compromising on quality.
No Value Added Services
A good freelancer will complete all of the set tasks and that's it.


Value Added Services
We don't just deliver projects, we add value to them. We create Instructional and Tutorial videos and documents to allow the client to properly understand and use the web application. We make sure that our clients get the most from the web application.


Can Become Competitor
The freelancer can also become your competitor. A Freelancer will try to provide many services, this means that he can try to bypass you and directly communicate with your clients and potentially become your Competitor.
Communication
Communicating and getting updates from the Freelancer becomes a bit hectic and undesirable as they normally don't reply to messages while working.


Your Partner
Eden Spell won't be a competitor to the agency's clients, from NDA's to focus on working exclusively with agencies, we ensure that there is no conflict of interest. You are good at designing, SEO and marketing and we are experts in converting your designs into scalable web applications.


Communication
We know that communication is the key to a successful project, ES provides regular updates to clients & reaches out to them via a dedicated (PM or CSO). This eliminates all the ambiguities on both sides.


Less Available Time
Freelancers will work on their own preferred time or most of the time when they are free from their other full-time commitments.


We Work When You Do
We work when you do, in fact, our timing also allows us to complete the assigned work in your nighttime, so you can send us your designs on Tuesday evening and get them converted and ready by Wednesday morning. We are also available for quick fixes and urgent calls beyond our working hours.


Less Focused
A freelancer often tries to take on as many projects as possible, even getting projects that they have no expertise in.


Specialist Developers
Eden Spell doesn't pretend to know all technologies; it specifically focuses on the following tech stack – Laravel, Bootstrap, HTML 5, CSS 3, WordPress, Divi

Less Profit Margins
Freelancers can be as expensive as a full-time employee and hiring many freelancers will result in less profit margin for you


More Profit Margins
We can provide you rates that are 60% to 40% cheaper than those from the US or EU.
With ES Dev Alliance, our team can offer the following services to your design agency at better quality and profitable rates than others.
PSD To HTML
PSD to HTML:
We will convert your Photoshop, Figma or Adobe XD designs into desktop and mobile friendly websites. Our HTML websites are very quick to load and perform brilliantly across devices.
Custom Laravel Web Application
Share your designs and work flows, and we will create fully dynamic web applications for you. The custom application can be a Customer Management System, a Booking System, an Accounting system or anything your customer needs.
Custom CMS
Want the ease of WordPress but don't want to be restricted with its limitations? Let us create a custom content management system for you, that your customers will love to use.
Hybrid Mobile App Development
Want to convert your designs in to a Mobile App? Want to create an app that would work on both Android and iOS? Then we can develop the best hybrid app for you that will work on both platforms.
PSD To WordPress
Want pixel perfect conversion of your designs to WordPress, while still retaining the ability to modify the content at ease, then we can certainly develop your designs as custom themes for WordPress.
WordPress Plugins
Have a new or running WordPress site that requires some custom functionality that is not provided by any Plugin? We can create a custom plugin for you that will specially fulfil your particular requirements.
"I've worked with Majid and Eden Spell Technologies for a couple of years now. Majid and his team have helped us with everything from WordPress based web design to custom plugin creation and technical assistance. Majid has been a huge asset and I'd recommend him for any web development or design project."
Logan Mastriana
Google Ads Expert
"One of the best you'll find online. Great communication, responsive, high level of expertise, and will stick with you until he's met your needs. Highly recommend!"
Jim Higgins
Higgins Marketing Groups
"EdenSpell is wonderful to work with. They are quick, knowledgeable and truly cares about the projects they are undertaking. They often goes above and beyond and takes the time to ensure that the end results are exactly what we want them to be. I had to go back to them a number of times to ask their opinion on the assets that we needed and they didn't hesitate to provide the information to my in-house designer in a timely manner."
Ehsan Sharnejad
Propel Marketing Groups
"I enjoyed working with EdenSpell on several projects. I really appreciate their clear communication and use of video to screenshare. I would love to partner with them on future projects."
Crystal Gaskin
Found it Digital
LET'S TALK!
Tell us a bit about your idea. We'll get back to you within one day and plan our next steps.